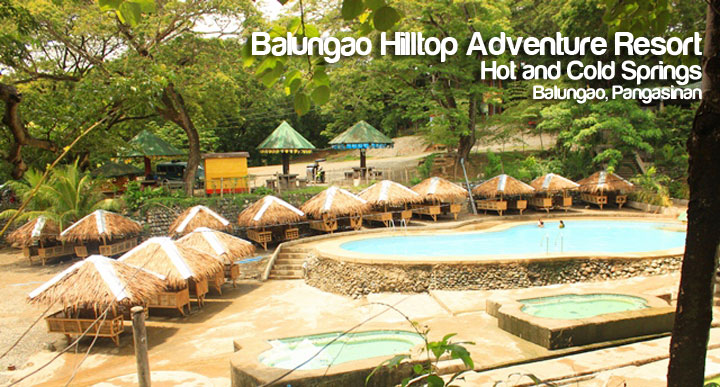 Balungao Hilltop Adventure Resort is situated at Mt. Balungao, four kilometers away from the town proper.
The extreme hilltop adventure boasts of a zipline experience, all-terrain vehicle driving, bungee trampoline, hiking or trail walking, trust fall, mountain biking, and paintball target shooting.
And because of the presence of hot and cold spring in the area, several pools were built which offering varying temperatures. The hot and warm pools are ideal for visitors to released stress and to have refreshing feelings.
Your zipline adventures in Balungao Pangasinan will surely one of your unforgettable experiences for the rest of your life. You can choose from Zipline-1 which is 620m and Zipline-2 which is 1.4 km. These zipline rides offer you a view of villages, extinct Mt. Balungao, and flowing hot and cold spring.
Plan your summer getaway, come and visit Balungao to experience the Balungao Hilltop Adventure.
Contact Details:
Balungao Hilltop Adventure
Address: Mt. Balungao, Pangasinan
Phone: (075) 518-2116
Mobile: 0917-729-1624 / 0932-535-8687 / 0917-828-1072 / 0919-406-6133
Email Address: [email protected], [email protected], [email protected], [email protected]
Facebook: Balungao Hilltop Adventure
[adsense_leaderboard_content]
Rates:
Entrance Fee:
Php 50.00 Adult
Php 25.00 Kids (Children 4 feet and below)
Shed:
Php 200.00 (Kubo)
Php 100.00 (Concrete)
Pavilion
Php 800.00 (8 AM to 5 PM)
Function Hall
Php 5,00.00 (6 hours)

*Additional charge of Php 100.00 for every hour of stay beyond 5 PM.
*Additional charge on electricity depending on actual consumption.
Room Rates
Php 1,500/room – Inclusive of free breakfast for two(2) Charge for additional breakfast shall be determined on day to day menu
Php 400 – Per Extra Bed
Php 5,000 – two sections of the function hall
Php 3,000 – One section of the function hall
Php 1,500 – Roof Deck
*Check in time at 1:00 PM, check out time at 12:00 Noon
*In the case the occupant's stays 2 hours beyond check out time, a charge of additional Php 250.00 shall be enforced. However, more than 2 hours after checkout time, occupant shall be charged equivalent to one day of use.
Adventures Rates:
Zipline1 620m
Php 300.00
Zipline2 1.4 km
Php 600.00
ATV Driving
Php 200.00/15mins
Bungee Trampoline
Php 100.00/15 mins
Adventure Package
Php 850.00 (Zipline No.1 and 2 plus 15 mins. ATV driving)
Php 700.00 (Zipline No.1, and 2)