Veue Beach Cabins is a modern beach cabin concept located in Patar Beach, Bolinao, Pangasinan. The name "Veue" is taken from the old French-Latin word meaning "viewpoint". The resort is designed to offer guests a unique and relaxing beachside experience.
The cabins at Veue Beach Resort are inspired by the modern box houses you'll find in Europe and Scandinavia. They are made of concrete and glass, and they feature large windows that offer stunning views of the beach. Each cabin is equipped with a kitchen, a living area, and a bathroom. There is also a communal pool on the property where guests can enjoy swimming in the infinity pool facing the beach.
Veue Beach Resort is a great place to relax and enjoy the beauty of the beach. It is also a great place to explore the surrounding area, which is home to several caves, waterfalls, and historical landmarks.
Facilities and Amenities:
Each cabin is wrapped in tempered glass and concrete for a beautiful and functional design. The cabins are separated by the the lap pool and gardens. Cabins are right on the Patar beach front! The elevated lot gives you a panoramic view of the West Philippine Sea.
Each cabin is 55 sqm and comes complete with everything you need for a great vacation. Whether you cook your own food or order in, you will enjoy the intimate atmosphere of our dining area. Your kitchen comes complete with a full size refrigerator, an induction stove, a boiling pot, and a microwave oven
There are staff available anytime to help you with anything you may need.  CCTV camera's are always there for security purposes but NOT connected to any viewable screen to maintain your privacy at all times. Internet powered by Converge FibreX with Individual Mesh Network Stations for the fastest possible connection!
King Size Bed

Sofa Bed Convertible into a Queen Size Bed

Dining Table for 2-4 persons

TV with Cignal Digital Satellite Cable Service

Airconditioning

Porch with Coffee Table Set

Personal Outdoor Dining Set (upon request)

Individual wifi mesh network device per cabin
Full-Size Refrigerator

Induction Cooking Stove

Microwave Oven

Rice Cooker

Kitchen Sink

Cooking Utensils

Pots and Pans

Dining Set for 4 Persons
Indoor and Outdoor Shower

Toilet

Sink

Hot Water for Indoor Shower and Sink

Closet/Storage Area

4 Sets of Bathing Towels

4 Sets of Beach/Swimming Towels

Starter Kit (body soap, shampoo, hand soap,  lotion, toothbrush, toothpaste, toilet paper)
Swimming  Pool

Pool Lounge Chairs

Common Gardens

Beachfront Area

Sitting Areas

Common Dining Areas

Fire pit area

BBQ Grill set up (upon request)

Spacious Parking Area

Full Back up Generator

CCTV for security

Internet powered by Converge
24 hour in-house staff for reception concierge security and maintenance

Free Daily House Cleaning (upon request)

Free Change of Sheets and Beddings (upon request)

Room Service Menu Dining

Welcome Kit with directions, travel tips, and full list of cabin contents will be emailed upon booking to help you plan your trip.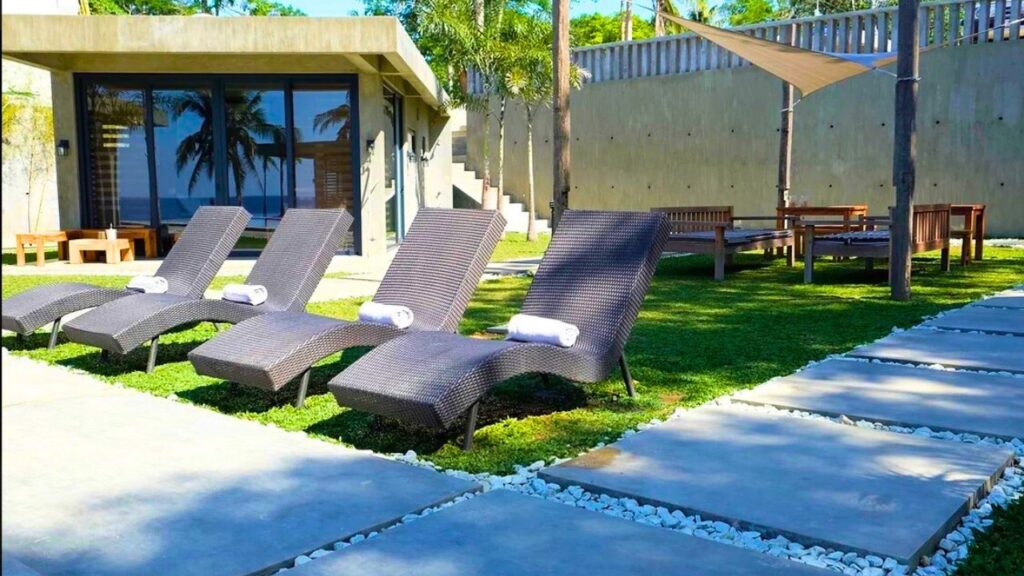 Here are some of the things you can do at Veue Beach Cabins:
Relax on the beach and soak up the sun.

Go swimming in the ocean or the pool.

Go snorkeling or diving to explore the underwater world.

Kayak or paddleboard along the shore.

Hike to the top of Cape Bolinao Lighthouse for stunning views of the area.

Visit the nearby caves, such as Cindy's Cave, Wonderful Cave, and the Enchanted Cave.

Visit the Bolinao Falls.

Explore the town of Bolinao.
Here are some tips for planning your trip to Veue Beach Resort:
Book your stay in advance, especially during the peak season.

Bring your own beach gear, such as towels, sunscreen, and insect repellent.

If you're planning on doing any water activities, make sure you have the appropriate gear.

Be sure to explore the surrounding area and see all that Bolinao has to offer.
If you're looking for a unique and relaxing beachside experience, then Veue Beach Cabins is the perfect place for you.
Accommodations in Bolinao Pangasinan
Visit Popular Tourist Spots in Bolinao