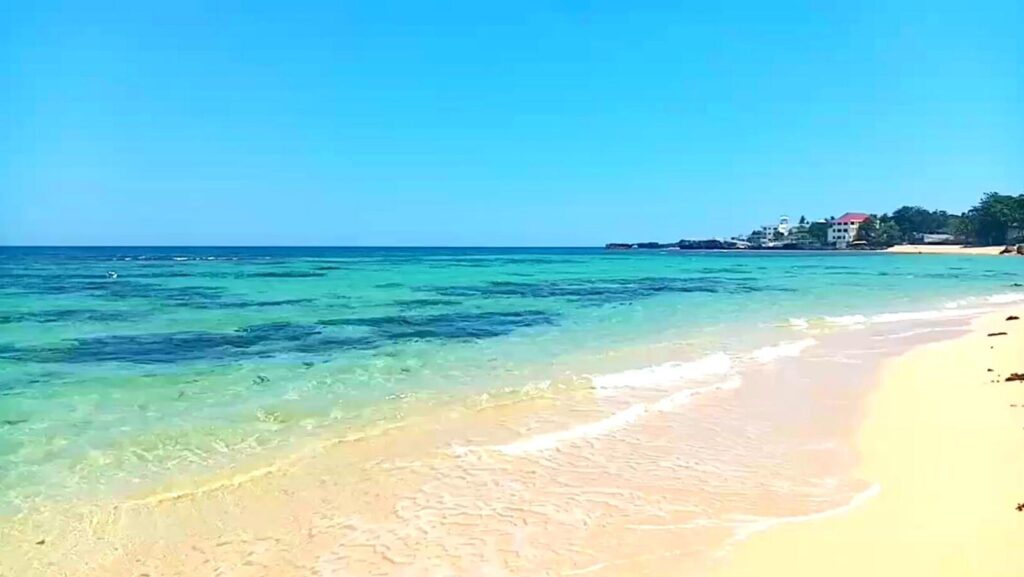 Discover Patar White Sand Beach! The most popular among the number of pristine beaches in Bolinao Pangasinan. It is blessed with beautiful golden sand, crystal clear water, and a breathtaking view of the West Philippine Sea.
It is a public beach so no entrance fees but you need to pay for parking space. There are several nipa huts for rent along the beach. There are some stores at the back of the beach where the public toilet and baths are also located. From Bolinao town center, it takes 30 – 40 minutes to reach Patar White Beach.
Most of the resorts including the upscale Puerto Del Sol Beach Resort & Hotel Club are located along the coast north of Patar Beach. The only resort right on Patar Beach is Treasures of Bolinao. Another gorgeous resort located on the left side of Patar Beach is Hotel G Beach Resort. They offer private villas, couple rooms, and dormitories for tourist overnight accommodation.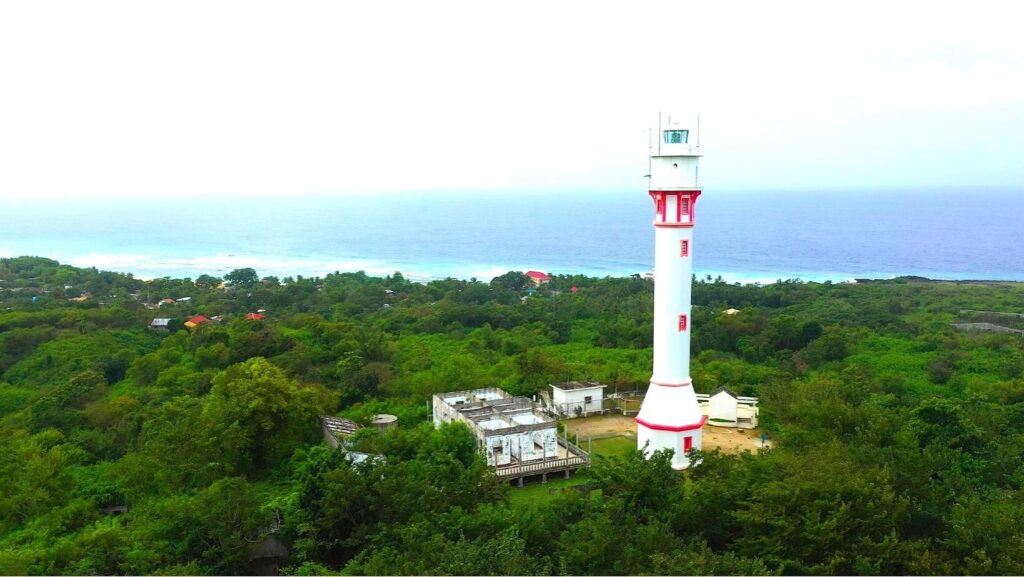 After you enjoy swimming on Patar White Sand Beach, you can also visit Cape Bolinao Lighthouse atop Punta Piedra Point one of the must-see attractions in Bolinao. The lighthouse was constructed in the early part of the 20th Century under American rule and is supposed to be the second tallest in the Philippines after Cape Bojeador Lighthouse in Ilocos Norte. It is just located at the very top of a small hill left side of the main road before heading to Patar White Beach.
You can also visit Tara Falls and Bolinao Falls 1 & 2, the must-see places and great swimming experience when touring around Bolinao.
Other places to visit in Bolinao are Enchanted Cave, Cindy's Cave and Wonderful Cave. These are underground Pools where swimming inside the cave is allowed. You might also see giant clam (Tridacna gigas) and Sea Cucumbers at the University of the Philippines Marine Science Institute (UP-MSI) Marine Laboratory in Guigui-wanen. If you want to see them in their own habitat you can rent a boat at UP-MSI and let them tour you to Silaki Island marine sanctuary manage by UP-MSI.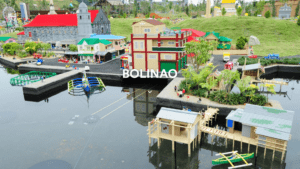 It is also worth taking a short side trip to
The Saint James the Great Parish Church
a Spanish colonial church made out of black coral stones. Originally built in 1609 and its bell tower was once the tallest on the entire island of Luzon. The church is near the bus terminal and it is in front of the town hall. It is one of Pangasinan's major landmarks. The town of Bolinao and the Church of St James is on permanent display at
Legoland Malaysia
. It is the only Philippine landmark and destination featured in Legoland.
Patar Beach Environmental Fee, Entance Fee, and Parking

Environmental Fee and Registration Fee :
Adults:  Php. 40 / head
Children 7 years old and above:  Php. 40 / head
Children 6 years old and below: Free
♦ The municipal government of Bolinao collect PHP40 Environmental and Registration fee from tourists who will visit the tourism spots in Bolinao, Pangasinan. 
♦ The PHP25 is for the environmental fee and the PHP15 for registration fee.
♦ This is a one-time payment valid for four days. (Make sure to keep the copy of your environmental and registration fee official receipt with you). You must show this to the Collection Posts  of every tourism spots in Bolinao to avoid another payment collected from you. 
♦ It applies to all tourist or individuals going to the tourist spots as per Municipal Ordinance No. 2017-04.
Entrance Fee, Cottages and Parking Fee
Entrance Fee: FREE (Patar Beach is a public beach so there is no entrance fee.)
Cottage Fee:  Php. 300 – Php. 1000
Camping Fee:  Php. 100 –  Php. 200 (exclusive of tent).
Parking Fee
• Motorcycle – Php. 10
• Tricycle  – Php. 15
• Car – Php. 20
• Van – Php. 20
• Jeep – Php. 20
• Bus – Php. 50
• Truck – Php. 30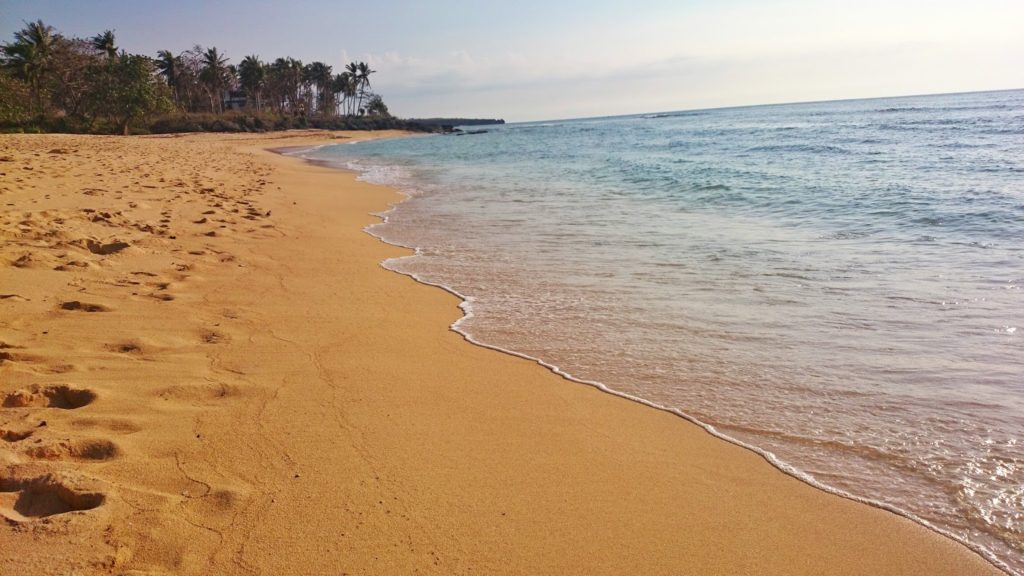 Tips and Reminder: 
♦ Patar Beach is a public beach so there is no entrance fee.
♦ The rate of the cottages depends on the owner of it, it ranges from 300-1000/ day. You can also negotiate if you are only less than 5 pax and if you are staying for half-day only. 
♦ Public bathrooms are available with maintenance fees. Some cottage owners provide public bathroom for thier guest and it is free of use if you already got a cottage. 
♦ Tent pitching is allowed. You may bring your own tent, but people usually rent cottages or bring their own mats. 
Top 7 Accommodation Near Patar Beach
Location: Sitio Tinumrong, Brgy. Arnedo, Bolinao Pangasinan Philippines.
Old Rock Resort Hotel is the newest, unique, and attractive getaway in Pangasinan. It is a natured themed resort with a unique rock pattern. All resort's facilities are architectured with unique rock patterns. It has a beautiful landscaped park and restaurant, a private swimming pool for checked-in guests, and modern-style room accommodations with complete room amenities. The resort's kiddie pool is one of a kind, with a view deck on top and a cave design shade under. It also has a beautiful view and a pristine beach in the seaside area. Read Full Review 
Sundowners Vacation Villas
Location: Luciente 1st, Bolinao, Pangasinan Philippines
Sundowners Vacation Villas located in Bolinao, Pangasinan offers whitewashed Santorini-inspired vacation villas for rent. 
Sundowners offers twenty six (26) Santorini inspired villas for rent where guests have access to two common infinity pools and jacuzzi areas. They also have six (6)private pool villas for those who want the pool all to themselves. Read Full Review
Location: Barangay Germinal, Bolinao Pangasinan Philippines
El Pescador Resort Hotel is ideal in its quiet country setting and offers anything you may need for your getaway. It is a beachfront hotel and has two big swimming pools with twisted slide. Most rooms in the seaside hotel offer modern interior style, coffee tables, local art deco, big windows, and balconies to enjoy the sea breeze and colorful sunset. While rooms in the twin building offer a panoramic view of the swimming pools, lush landscapes of the area and other resorts facilities. Water activities like banana boat ride, love boat, water bike, speedboat ride, and kayaking are available here.  Read Full Review
Puerto Del Sol Beach Resort & Hotel Club
Location: Barangay Ilog Malino, Bolinao, Pangasinan, Philippines
Puerto Del Sol Resort and Hotel is one of the top beach resorts in Bolinao Pangasinan. It is famous in terms of quality accommodation with complete amenities, good food, unique and clean swimming pools, and excellent services. It is one of the most elegant and sophisticated resorts in Bolinao. Read Full Review
Treasure of Bolinao Beach Resort
Location: Barangay Patar, Bolinao Pangasinan Philippines.
If you opt for a resort with great ambiance and beautiful scenery, Treasure of Bolinao Beach Resort is the best one. Treasures of Bolinao overlooking the seemingly boundless West Philippine Sea. On the right side of the resort, you will see beautiful rock formations. On the left side is the famous  Patar White Sand Beach. And just behind the resort is the towering Cape Bolinao Lighthouse. The central Pool has the kiddie area and the infinity pool is next to the sea. It also has a poolside bar & restaurant. Read Full Review 
Location: Barangay Ilog Malino, Bolinao Pangasinan Philippines
The Punta Riviera Resort is an ideal beachfront accommodation in Bolinao. Became one of the favorite accommodations among tourists because of its unique seafront, a river, and an island environment. Located at the estuary of the Ilog Malino river. The resort has an infinity pool overlooking the river, riverside swimming pool, obstacle swimming pool, hanging bridge crossing the river, obstacle course and a bridge that provides the guests easy access to the charming white sand beach of the island. Read Full Review.
Hotel G Beach Resort and Restobar
Location: Barangay Patar, Bolinao, Pangasinan, Philippines.
Hotel G Beach Resort and Restobar is located at the edge of the pristine Patar White Sand Beach, in Bolinao Pangasinan. The resort have 2 infinity pools and a beautiful white sand beach is facing the West Philippine Sea. Hotel G offers luxurious villas and fully furnished air-conditioned couple rooms and family rooms. It has an acoustic band at the Bar and Garden by the Beachfront every Saturday night. Read Full Review
Pangasinan Guide for TOURIST
Requirements for Fully Vaccinated Tourists
Source: Province of Pangasinan FB Page Executive No 015-2022
NOTES TO TOURISTS & TRAVELERS
Be responsible.
Don't leave your trash everywhere.
DO NOT TOUCH the marine life.
DO NOT STEP on the corals!
DO not take seashells from the beach.
Be courteous to the locals.
Do tespect other people's privacy.
Don't forget to have fun!
Take Nothing But PICTURES
List of Beach Resorts and Hotel in Bolinao Pangasinan
List of Tourist Attractions in Bolinao Pangasinan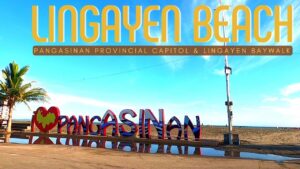 Lingayen Beach is an exquisite beach found in the capital of Pangasinan. It is a public beach that is open to all and has no
Read More »
Location: Luciente 1st, Bolinao, Pangasinan