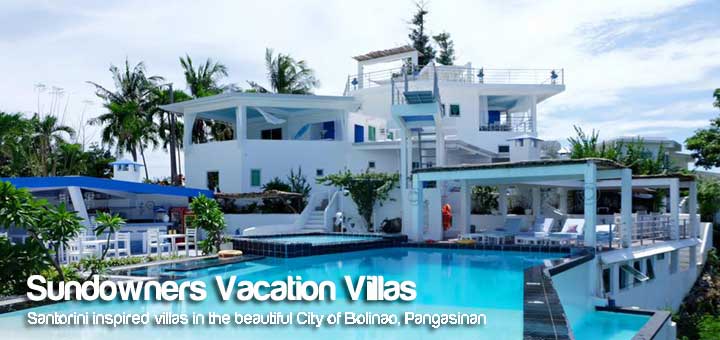 Sundowners Vacation Villas located in Bolinao, Pangasinan offers whitewashed Santorini-inspired vacation villas for rent. Sundowners offers twenty six (26) Santorini inspired villas for rent where guests have access to two common infinity pools and jacuzzi areas. They also have three (3) private pool villas for those who want the pool all to themselves.
All the villas of Sundowners are absolutely spacious and promising a perfect getaway providing air-conditioned bedrooms, hot and cold shower, fully equipped kitchen with dining area and grilling area, large balconies with relaxation areas, and of course access to the breathtaking infinity pool areas.
The infinity pool has a breathtaking view of the West Philippine Sea and Bolinao Port. This is also a perfect area for thrill-seekers as the pool features a 13 feet diving board, giving adventure-hungry guests quite a challenge. The villas are varied in size to cater to couples, barkadas, big or small families and even corporate affairs.
Contact & Location Details
The best hotels in Bolinao are idyllic retreats for affluent travelers, offering excellent accommodation, fine dining options, luxurious facilities, and impeccable services for a fulfilling tropical holiday. We can not say that we will give the right answer for everyone, but frequent visitors to Bolinao should already have the meaning of what we offer. Here's our list of the top 3 best beach resorts and hotels in Bolinao Pangasinan 2022.
Rates
No day tour, swimming pools are exclusively for renters only.
The guests doesn't need to pay an entrance fee when they already reserved a villa.
Rates for additional pax
Infants below 1 year old are free of charge.
Children 6 years old and below – Php 500/night.
Ages 7 years old and above – Php 1,000/night.
Pet Charge:
Pets are allowed Php 500.
*Pets are not allowed to swim in the pool areas.
Other services (Schedule 2-3 days before check in date)
Tour Guide – Php 700/day.
Car Rental (Around Bolinao Only / Inclusive of Driver and Gas ) – Php 3,500/ day.
Maid service (per chore / per maid) Php 350.
Massage Php 350/hour Or Php 500/ 2 hours
*Need to schedule a massage 3 days before travel date
Room Rates & Reservation
To see their latest room rates and for reservation click
here
.
Sundowners Vacation Villas Rules
Sundowners Vacation Villas will not be liable for any loss or injuries inside the vicinity of our compound.
Please bring life vests or floaters for kids swimming in our infinity pool area or seafront area. Swim and dive at your own risk. We also provide life vests for free upon request.
Guests can bring their own food and drinks and have full use of our kitchen amenities. Villa renters should wash all the kitchen utensils used before check out. If the client fails to do so, they will be charged Php 350. You can also avail of our maid service as seen below.
Our helpers can assist you inside the villas until 9:00 P.M.
House pets are allowed inside the villas and inside the vicinity of our compound. We expect our renters to clean up after their pets. There will be a charge of Php 500 per checked in pet.
Other services include: (Please schedule 2-3 days before check in date) – Car Rental (Around Bolinao Only / Inclusive of Driver and Gas ): Php 3,500 per day – Tour Guide: Php 700/day – Massage Php 350 for 1 hour/ Php 500 for 2 hours – Maid Service (per chore/per maid): Php 350
Please keep the Villas as clean as possible. We expect all our guests to respect our facilities, greenery and fixtures inside our compound. Renters are responsible for any damage done in their villas assigned and will be billed for repairs needed beyond normal wear and tear.
Sundowners Vacation Villas is a vacation house for rent service. Toiletries are not provided and housekeeping services are kept to a minimum. You can bring your personal linens, towels and mattresses for additional comfort. We also provide extra mattresses and towels for free.
Due to Sundowners having one villa each kind, our check out time of 12:30 P.M. for Cliffside Villas/Private Pool Villas & 11:00 A.M. for Marina Villas are strictly implemented. Guests will be charged a penalty of Php 2,000 for every 15 minutes exceeded beyond contracted check out time.
Any inconveniences experienced by our guests due to unforeseen fortuitous events, calamities or act of nature, Sundowners Management will not be liable.
For guests who will have visitor. ID visitor should be presented on the guard. Until 7 P.M., exceeding overnight rate.
Allow us to repost your Sundowners experience by tagging us on Instagram @sundownersvacationvillas.
Check In Policy:
Sundowners should be notified through SMS, Phone Call or Email if client's arrival will be after 3:00PM for Cliffside Villas / Private Pool Villas & 1:30 P.M. for Marina Villas.
Transfer Policy:
Reservation is only transferable to another date, 5 days prior to your scheduled booking before contracted reservation date.
If the client cancels within 24 hours before reservation, rescheduling will no longer be entertained.
Client can only rebook his/her reservation date ONCE. A revised contract will be sent to the client after the advise of transfer. Villa downgrade is not applicable.
Down payment is NON-REFUNDABLE.
Additional Pax Policy:
Client should advise Sundowners if there are any additional pax upon check in. An additional fee per night of Php 1,000 for ages 7 years old and above & Php 500 for ages 2-6 years old. Below 1 year old are free.
Photos
*Rates and rental fees written above are subject to change without prior notice.
You can choose your preferred villa to stay and enjoy your vacation.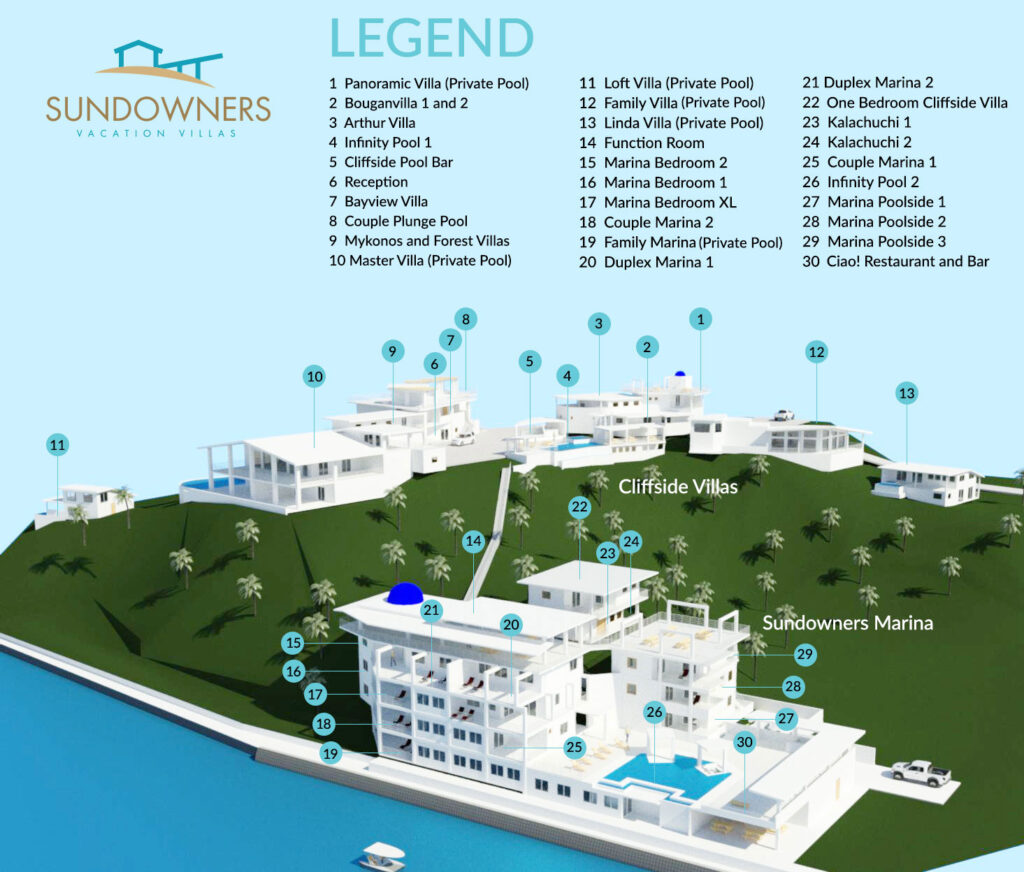 How to go to Sundowners Vacation Villas:
Take a Five Star or Victory Liner bus to Bolinao. From Bolinao bus station take a tricycle to Sundowners. Sundownervacation Villas is only two minutes away from the terminal.