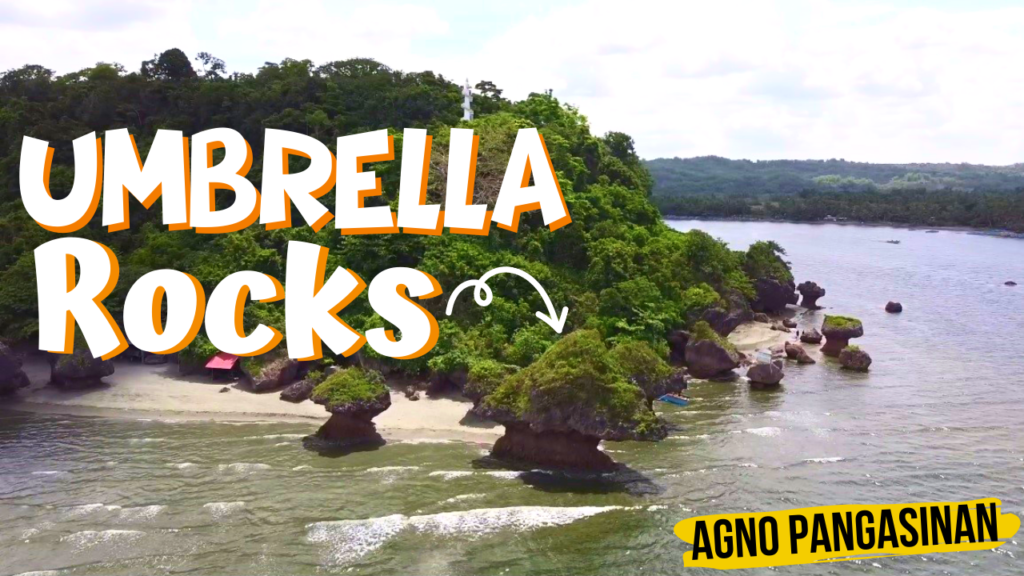 Umbrella Rocks is a popular tourist destination in Agno, Pangasinan. It is a collection of unique umbrella-shaped boulders that dot the mouth of the Balincaguing River in Sabangan.
The Umbrella Rocks is located about 30 kilometers from the town of Agno. Once you reach the beach, you will need to walk a short distance to reach the famous rocks formations.
The rock formations are said to have been formed by the incessant lapping of tidal waves against the shore through the centuries. It is one of the beautiful tourist attractions in Agno Pangasinan
The beach is a popular spot for swimming, snorkeling, fishing, and diving. The surrounding waters are home to a diverse marine ecosystem, including coral reefs and fish.
The Umbrella Rocks are a beautiful and unique natural formation. They are a great place to relax and enjoy the natural beauty of the Philippines.
How To Get To Umbrella Rocks:
From Manila, take a bus bound for Bani or Bolinao in Pangasinan.
Drop by the town proper of Bani.
Then take a tricycle or jeepney ride to Agno, Pangasinan.
There are also direct bus ride  from Manila to Agno, Pangasinan  although it is very limited. The travel time is around 5 to 6 hours. 
Once in Agno, ride a tricycle that will take you to the Umbrella Rocks.
These are some of the buses plying the Manila – Pangasinan route:
 Dagupan Bus Line, Victory Liner and Philippine Rabbit in Cubao – Quezon City.
 Five Star Bus Line – Pasay City
City Trans – Manila
Umbrella Rocks Formations Photos
Here are some tips for visiting the Umbrella Rocks:
The best time to visit is during the dry season, from November to April.

Wear comfortable shoes and sunscreen.

Bring a hat and sunglasses.

Bring a camera to capture the stunning views.

Be respectful of the environment and do not litter.

Enjoy the beauty of nature!
The Parola at Umbrella Rocks
There is also an old lighthouse on the top of a small hill, which offers stunning views of the area. The top of a lighthouse is a special place. It is also a place where you can take in stunning views of the surrounding area. The view can be breathtaking, especially on a clear day.
The view from the top of a lighthouse is always changing. On a clear day, you can see for miles from the top of a lighthouse. You can see the ocean, the coastline, and the villages below.  The waves crash against the rocks, the wind blows through the trees, and the sun sets in the sky. It is a place where you can find peace and tranquility, and where you can appreciate the beauty of the world around you.
Beautiful Tourists Attraction in Pangasinan: