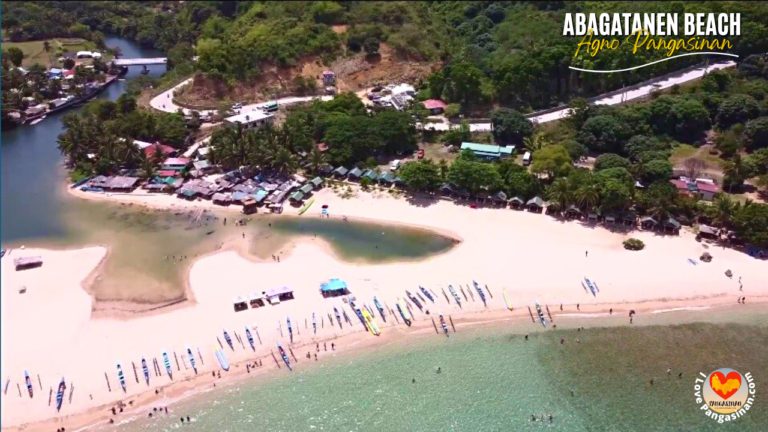 Abagatanen White Sand Beach is located in Agno Pangasinan. Agno Pangasinan is situated between the towns of Burgos and Bani. It was named after a swamp tree called "Agno Casto", which grows abundantly in the area and is used for medicinal concoctions to relieve pain and illness.
Being situated in the coastal municipality, Agno in Pangasinan has been blessed with a number of beautiful seaside natural wonders.
Like other nearby towns, Agno Pangasinan also offers several tourist spots. Abagatanen Beach is one of them and it is one of the favorites among tourists because of its unique beach features and natural beauty.
There are cottages available for small and large families, but you have to bring food as it does not have any restaurants and big markets.
What Makes Abagatanen Beach Unique?
What makes Abagatanen beach unique is that there is a river flowing in an estuary that splits the sand during the rainy season and when it is high tide.
The sand is not as white and powdery as the famous white beaches on Boracay but somewhat creamy-colored fine sand-like Patar White Beach in Bolinao. The water is crystal clear perfect for swimming and snorkeling.
Umbrella Rock Formation is one of the Agno's prided Attractions. These are umbrella-shaped boulders dotting the mouth of the Balincaguing River in Sabangan Beach.
The Umbrella Rock Formation is another popular tourist spot of Agno Pangasinan. It is known because of the umbrella rock formations present in the area. The sand here are not that white in Abagatanen beach, more likely grey in color. But the view of the beach with the mushroom-like rock formations made it one of a kind.
Location: Agno, Pangasinan
Agno Tourism Office: 0920.965.0463 / 0946.944.0446
Things to do in Abagatanen White Beach
Swimming
Snorkeling
Camping
Rock formation tour
Abagatanen view deck
Beach Hopping to:

Visit Duro
Visit Sawit
Visit Kibwar
Visit Ulgen
Abagatanen White Sand Beach Entrance and Room Rates
Entrance Fee: Php. 10
Cottages: Ranges from Php. 700 – 2500
*Cottages rates a bit higher during holidays and long weekends. 
Where to stay in Abagatanen White Sand Beach?
There are now transient houses and cottages where you can stay in Abagatanen White Sand Beach . Tent pitching is also allowed.
*Make sure you all have the things needed before heading to Abagatanen Beach as there's no markets or big stores in the area. Most of the establishments here have shared kitchens and parking lots.
Abagatanen White Sand Beach Photos
Other Beautiful Attractions in Pangasinan