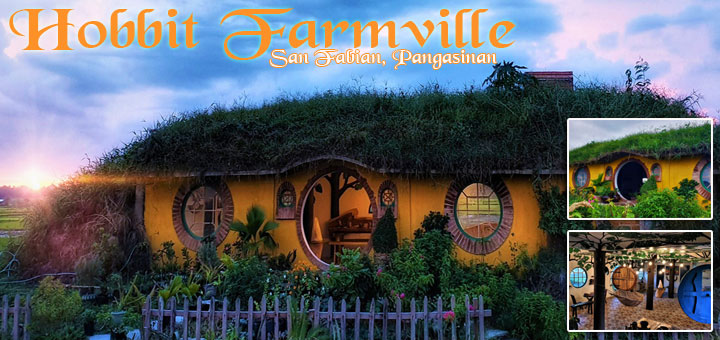 Hobbit Farmville in San Fabian Pangasinan is the newest eco-tourism resort inspired by the lush pastures of the Shire as featured in Lord of the Rings and The Hobbit trilogies. You don't have to travel all the way to New Zealand to experience how it is to stay on a Hobbit House.
Hobbit Farmville is a rustic and cozy eco-tourism Farm for people who would like to escape the crowded city life. Located at Lipit Tomeeng , San Fabian, Pangasinan. (Near basketball court and Barangay Health center).
They cater to prenuptial shoots, maternity shoots, weddings, and birthday photo-shoots. It is also a place to purchase fresh organic fruits and vegetables right from the plant during harvest season. You can also purchase flowers, vegetables and tree seedlings at the Farmville.
What you see here is just 10% of the whole Hobbit FarmVille. In just a couple of months, coffee shops, restaurants and many more will rise. But due to great public demand, they are now accepting guests to experience the hobbit hole. As of the moment, the hobbit hole, the garden, and the Hobbitea shop are available in the area.
Bring your next Instagram post to the next level! Visit Hobbit Farmville Now!.
Contact Details:
Location: Lipit Tomeeng , San Fabian, Pangasinan
Mobile No.:0922.848.8318
Facebook: Hobbit Farmville
[adsense_leaderboard_content]
Location Map:
Hobbit Farmville Rates:
Open from Monday – Sunday: 5:30 am – 7:00 pm.
Entrance Fee:
Kids (3 years old and below) – Free
Kids(3 years old and above) – Php. 60 / head
Adult – Php. 100 / head
Hobbit Farmville Exclusive Rates:
Reserve the Hobbit Hole exclusively for your group for only – Php. 1,500.
Note:
Visit the Hobbit Farmville early in the morning or late in the afternoon to enjoy the view with the sunset.
You can bring your food to have picnic inside the hobbit hole. But there is a NO GARBAGE policy at the farm. You cannot leave anything behind the Hobbit hole.
Don't forget to have fun, Take nothing but Pictures, Kill nothing but Time.
Hobbit Farmville Photo:
Photo © Hobbit Farmville San Fabian