River Village Resort is a new campsite and recreation spot in Bolinao, Pangasinan. Located at Ilog Malino, Bolinao, Pangasinan. The resort has full access to the Ilog Malino river. Guests can explore the river by kayak, which is one of the amenities offered by the resort.
It features recreational activities such as camping, kayaking, fish-feeding, and fishing. This unique tourist spot is perfect for people who want to unwind and experience the beautiful village life.
There's also an in-house restaurant that serves delicious Filipino and Western cuisine. They also serve seafood Bilao, perfect to dine at the cottages and treehouses situated along the river.
It is also the newest camping site in Bolinao, where guests can experience nature's wilderness. A campsite with a good campground and easily accessible.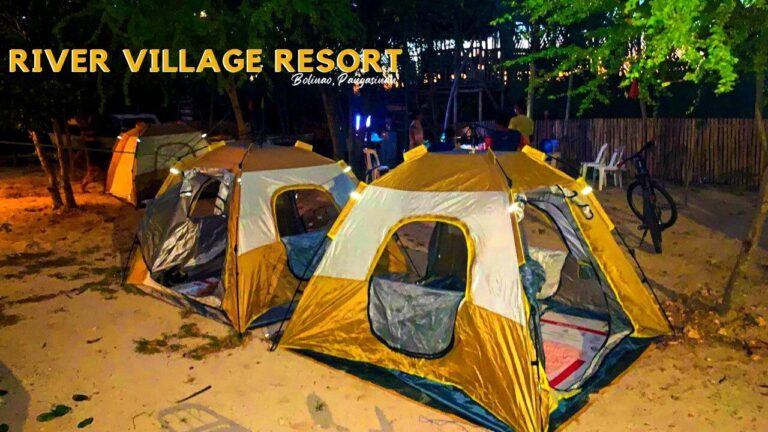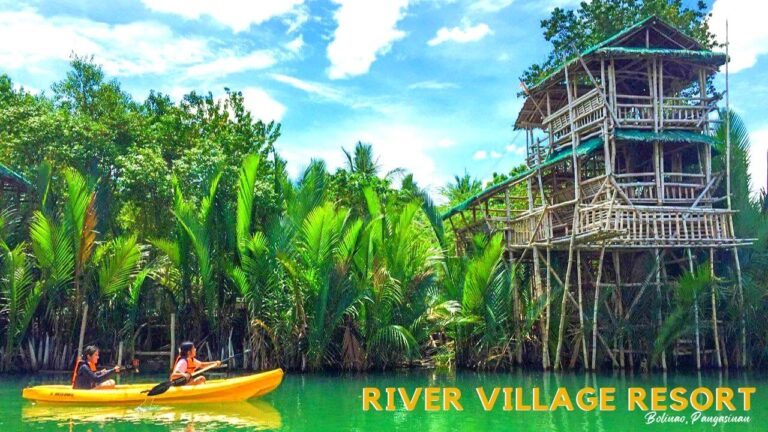 Explore Ilog Malino River by Kayak.
This unique kayaking trip on the river is suitable for beginners and more experienced kayakers. 
Experience the fun of fish-feeding.
One of the most exciting parts of this place is the fish feeding part, where you can buy the fish food at feed the fish in the fishpond.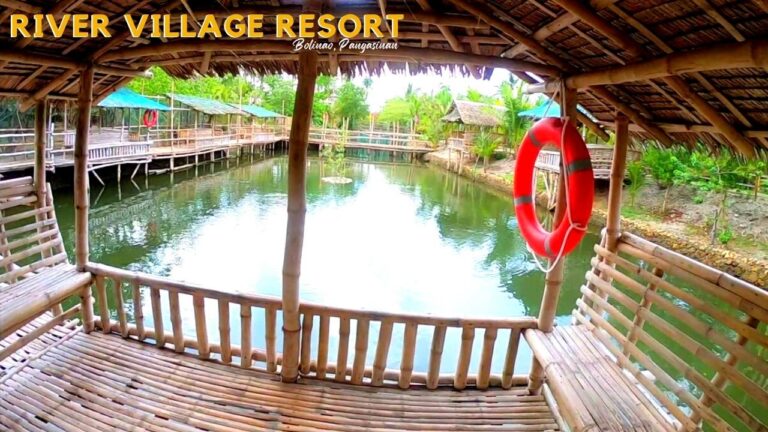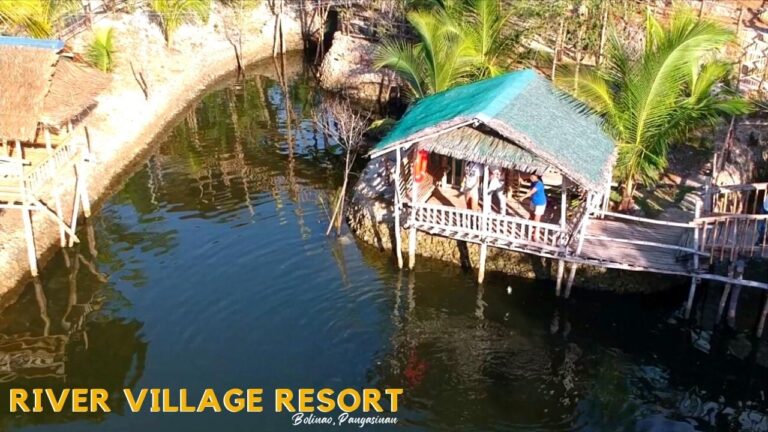 Share the fun of fishing.
You can take away your fresh catch or have it cooked at the restaurant.
Thrill seeker's guests can also try to dive at the treehouse's diving board.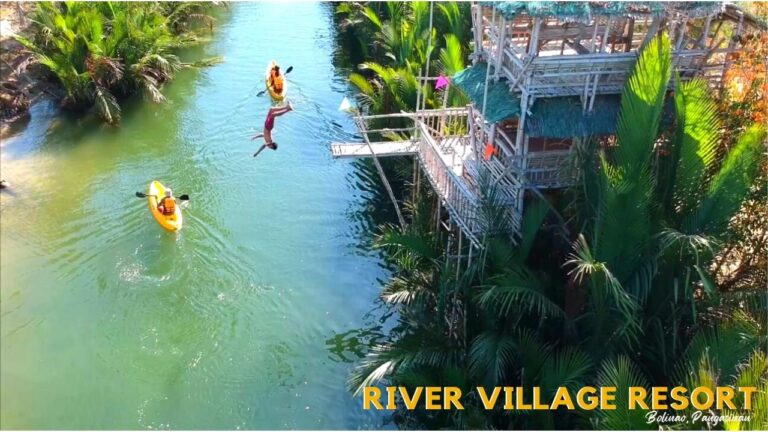 River Village Rates and Rental Fees
River Village Resort - Cottages and Treehouse Rates
COTTAGES

MAX PAX

OWN FOOD

DINE-IN

6

Php. 500

Php. 300 + 10% Service Charge
TREEHOUSE

MAX PAX

OWN FOOD

DINE-IN

1 STOREY

10

Php. 1000

Php. 500 + 10% Service Charge

3 STOREY

15

Php. 1500

Php. 700 + 10% Service Charge
Reminders: 
As of now, there is no entrance fee for day-tour guests.
Guests can bring in outside food. There is corkage fee.
Guests are not allowed to bring in outside liquors. There are light alcoholic drinks sold in the restaurant.
1 - 2 Pax - Php 1000
3 - 4 Pax - Php 1500
Reminders: 
Campers are allowed to bring and use their tent with Php 200 tent pitching fee individually.
Campers can use other resorts facility like comfort rooms – free of charge.
*River Village Resort Rates as of June 2022. All Rates that appear here are subject to change without prior notice.
HOW TO GET TO RIVER VILLAGE RESORT
 How to get to River Village Resort From Manila (Via Bus)
• Approaching from Manila, heading to Bolinao requires an approximate 6-6.5 hour bus ride. From Cubao and Pasay there are three (3) bus companies (Five Star, Dagupan Bus, and Victory Liner) that offer daily trip to Bolinao on multiple schedules.
• Another option is to take an Alaminos bound bus on a rare instance that direct trips are full on said terminals. From the City of Alaminos, Bolinao is only an hour away by either bus or UV express.
• When you reach Bolinao town proper, hire a tricycle to River Village Resort (Brgy. Ilog Malino). Always remember to ask the driver how much the fare will be.
BOLINAO BUS VIA METRO MANILA 6.5 HOURS TRAVEL TIME.
•FIVE STAR BUS CO. – Cubao. Pasay    | Aircon/Ordinary  |  (02)853-4772 (02)911-7359
•DAGUPAN BUS CO. – Cubao              | Aircon                  |  (02)727-2330 
•VICTORY LINER CO. – Cubao              | Aircon                  |  (02) 842 8679
 How to get to River Village Resort From Manila (by Private Car)
• From Manila to Bolinao, travel time takes about 4 to 5 hours.
• Take North Luzon Expressway (NLEX) and go straight ahead to SCTEX and exit via Luisita.
• At the junction of Siesta Court, turn left and take the road leading to Camiling, Tarlac and keep driving straight to Bugallon, Pangasinan.
• At the junction of Bugallon, turn left going to Alaminos, and straight ahead to Bani.
• Once you reach the town of Bani turn right and straight ahead going to Bolinao. 
• When you reach Bolinao town proper, turn Left onto Saturnino Camangian. Drive straight until you reach Balingasay Bridge.
• After Balingasay Bridge, follow Patar Road. The way is to go to Patar Beach. There are signages available in front of the main gate of River Village Resort.
List of Top Tourist Spots in Bolinao Pangasinan
List of Accomodations in Bolinao Pangasinan