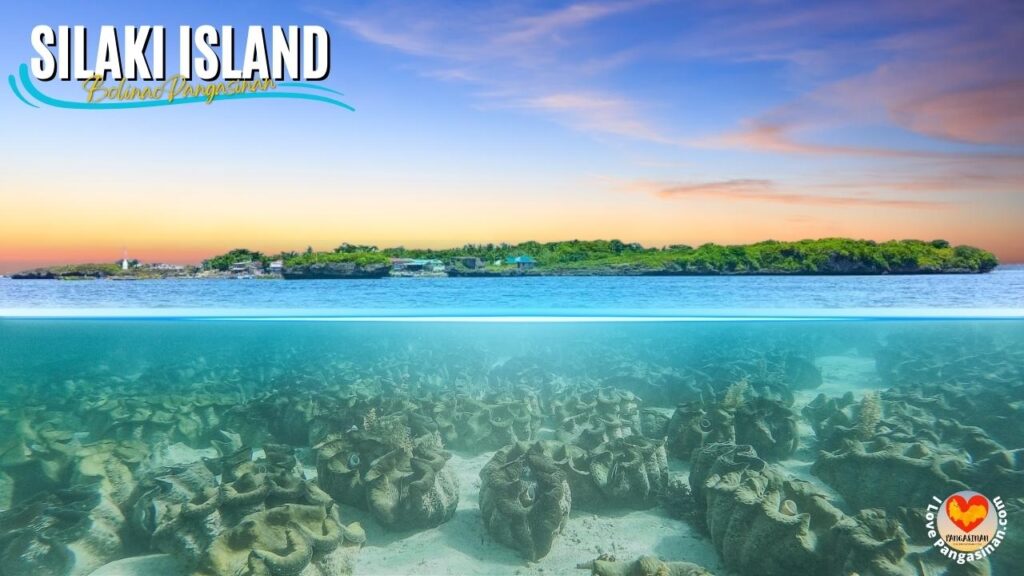 Silaki Island  or also spelled as Silaqui Island is one of the many islands that make up the Hundred Islands National Park in Bolinao, Pangasinan. It is a heart-shaped island located six kilometers north of Bolinao, Pangasinan.
This 10-hectare islet is a thinly populated sitio located in the northern tip of Santiago Island within the territorial jurisdiction of Bolinao town. It is the farthest sitio in Western Pangasinan inhabited by 86 families with more or less 300 individuals.
Silaki Island is tagged as the "Giant Clam Capital of the Philippines", because of the shallow reef surrounding the island that is home to giant clams, also known as "Taklobo". Giant Clams,  can grow up to 10 feet long and weigh over 500 pounds.
About Giant Clams or Taklobo
The Giant Clams belong to the genus Tridacna, of which Tridacna gigas is the largest living immobile bivalve mollusk in the world. The Giant Clam is known as "Taklobo" in the Philippines. They live in the shallow coral reefs of the South China Sea, West Philippine Sea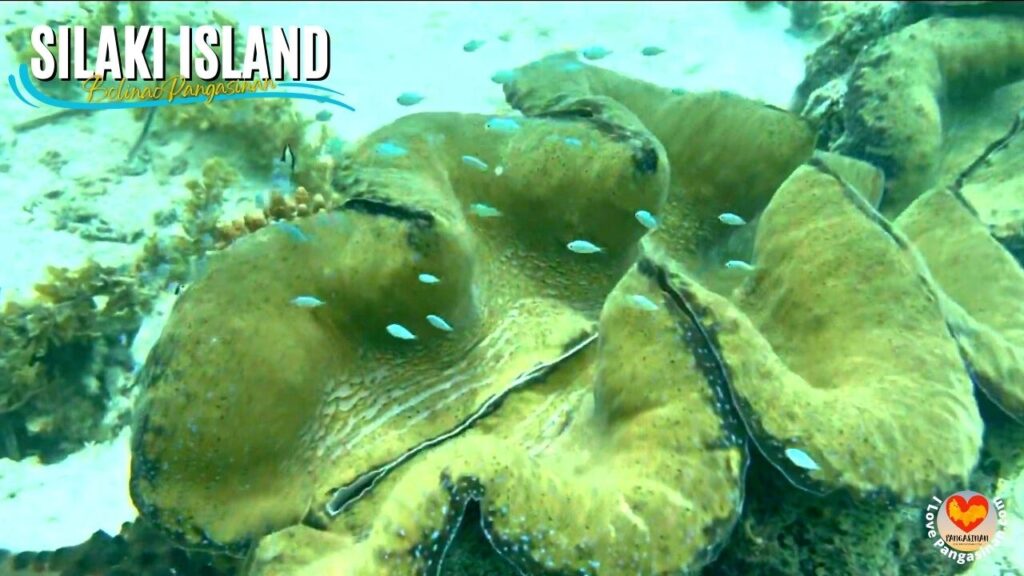 Sulo Sea, Red Sea, but mainly in the Indian and South Pacific oceans. The word Tridacna came from the Latin word 'Tri' meaning three, and 'dacn' from the Greek meaning bite, or "Three Bites," perhaps after the wavy shape of the clamshells.
Giant clams are filter feeders, taking in plankton through a large, central opening. The clam's algae also produces metabolic waste products, which serve as a second nutritional source. This allows the clams to grow large even in nutrient-lacking waters.
The Giant Clams live in flat coral sand or broken corals, and can be found in shallow warm waters and depths up to 66 ft (20 m). Its populations are diminishing quickly, and the Giant Clams have become extinct in areas where they were once abundant. When a larval Giant Clam settles, it remains there for the rest of its life. In the Philippines, various species of Giant Clams live in Palawan, Eastern Samar, Maricaban Island, Silaki Island (Bolinao, Pangasinan), Anilao Batangas, Samal Island (Davao), Negros, and Tawi-Tawi. With the help of NGOs, Giant Clams have been restocked at the sites of Anda, Pangasinan; Masinloc, Zambales; Calape, Bohol; Camotes Island, Cebu; Ilocos Norte: Tawi-Tawi; and Hundred Islands National Park.
It is illegal to catch, gather, sell, purchase, possess, or transport taklobo or any other protected species.  Taklobo, or giant clams, are listed as a protected species under the Convention on International Trade in Endangered Species of Wild Flora and Fauna (CITES). This means that it is illegal to trade in taklobo, regardless of whether they are alive or dead.
Silaki Island as a Giant Clam Nursery and Hatchery:
Silaki Island's reefs serve as a giant clam nursery and hatchery managed by the Bolinao Marine Laboratory (BML) of the University of the Philippines Marine Science Institute (UPMSI). 
The Bolinao Marine Laboratory or BML is the main research station of the Marine Science Institute of the University of the Philippines.
The nursery and hatchery help to conserve and propagate the giant clam population.
Silaki Island as a Tourist Spot in Bolinao Pangasinan:
Silaki Island is a hidden gem in Bolinao, Pangasinan. It is a beautiful island with a lot to offer tourists, but its remote location makes it difficult to reach. Visitors must hire a boat to get to the island, which can be a deterrent for some. But Silaki Island is absolutely stunning and mesmerizing.
Silaki Island is a popular destination for snorkeling and diving. The clear waters and abundant marine life make it an excellent place to see a variety of fish, coral reefs, starfish, sea urchin, and other underwater creatures. 
There are no resorts or hotels on the island, but there are floating cottages perfect for family picnics. Once you arrive at Silaki Island, you can spend the day swimming, snorkeling, or diving.
How to Get To Silaki Island:
♦ HOW TO GET TO BOLINAO (By Private Car)
• From Manila to Bolinao, travel time takes about 4 to 5 hours.
•Take North Luzon Expressway (NLEX) and go straight ahead to SCTEX and exit via Luisita.
• At the junction of Siesta Court, turn left and take the road leading to Camiling, Tarlac and keep driving straight to Bugallon, Pangasinan.
• At the junction of Bugallon, turn left going to Alaminos, and straight ahead to Bani.
• Once you reach the town of Bani turn right and straight ahead going to Bolinao.
♦ HOW TO GET TO BOLINAO (Via Bus)
• Approaching from Manila, heading to Bolinao requires an approximate 6-6.5 hour bus ride. From Cubao and Pasay there are three (3) bus companies (Five Star, Dagupan Bus, and Victory Liner) that offer daily trip to Bolinao on multiple schedules.
• Another option is to take an Alaminos bound bus on a rare instance that direct trips are full on said terminals. From the City of Alaminos, Bolinao is only an hour away by either bus or UV express.
BOLINAO BUS VIA METRO MANILA 6.5 HOURS TRAVEL TIME.
•FIVE STAR BUS CO. – Cubao. Pasay    | Aircon/Ordinary  |  (02)853-4772 (02)911-7359
•DAGUPAN BUS CO. – Cubao              | Aircon                  |  (02)727-2330 
•VICTORY LINER CO. – Cubao              | Aircon                  |  (02) 842 8679
How to get to Silaki Island from Bolinao Town Proper:
Option 1
Upon your arrival in the town of Bolinao, take a tricycle to Barangay Luciente 1, also known as Picocubwan. If you are not familiar with the area, look for the Sundowner Villas, which is a popular landmark. The port is located near the Sundowner Vacation Villas.
At the port, motorboats are available to transport people to Santiago Island.
You can hire a motorboat to take you to Silaki Island instead of Santiago Island. However, be sure to ask about the fare beforehand, as it will be higher than the fare to Santiago Island. This is because Silaki Island is further away, and the motorboat will have to stay with you and bring you back to the port.
Option 2
If you have already booked a resort or hotel accommodation, you can simply go there directly. Once you arrive, tell the resort management that you would like to go on a tour to Silaki Island. They will be able to arrange a motorboat for you.