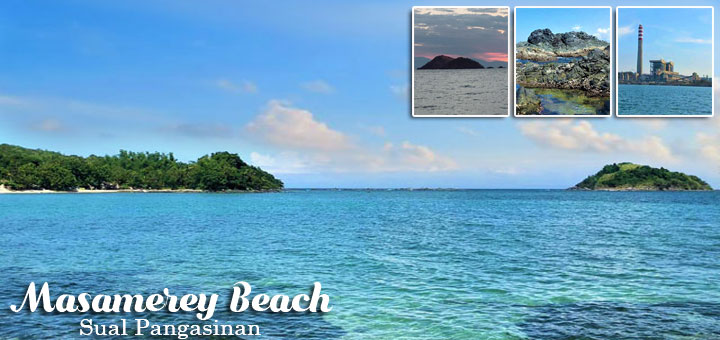 Sual Pangasinan is familiar for its mountainous zigzag road and Sual Power Plant (Philippines' largest coal-powered plant). Aside from that Sual is also blessed with beautiful tourist destinations like beaches, waterfalls, coves and tropical islands. One of which is the unexplored coastal cove of Masamerey Beach in Brgy. Baybay Norte. Like the Patar White Sand Beach in Bolinao, Abagatanen White Sand Beach in Agno, Cabongaoan Beach in Burgos, and Tondol White Sand Beach in Anda, Masamerey White Sand Beach is also a public beach. No need to pay any environmental or entrance fee to enjoy and explore the beach.

Location Map
Activities and Side trips in Masamerey
Swimming
Like most beaches in Pangasinan, Masamerey have good white sand and crystal clear water which is best for swimming.
Snorkeling
Masamerey Beach Cove is also good for snorkeling.
Fishing
Fishing in Masamerey Beach Cove is allowed. There are small boats in the area where you can rent and use in fishing.
Island Hopping
From Masamerey Beach, you can rent a boat for Island hopping, you can visit Cabalitian Island, Islands of Comas, Poro Maya and Tori-Tori. From Masamerey Beach, It takes about 20-30 minutes to reach the Cabalitian Island. Tent pitching is allowed in the island and there are also cottages that can be rented. Boat rates from Masamerey to Cabalitian Island starts at Php 500.
Island Hopping to Hundred Islands
Masamerey Beach can also serve as a jump-off point going to Hundred Islands. Boat rates start at Php3, 000 good for 10-15 persons.
Visit the Waterfalls
There are four Waterfalls in the area: The Matico Falls, Mayaman Falls, Mambaciano, and Mabuclao Falls. If you are adventurous enough, you can explore all these waterfalls with your friends.
Explore the Palbutan
The palbutan is the pebbled side of Masamerey Beach. Picturesque rock formations are good for sightseeing and picture taking.
Visit the Sual Power Plant
SUAL POWER PLANT is the largest coal-fired power station in the country. The coal-fired power station is owned by Team Energy.
Where to Stay in Masamerey White Beach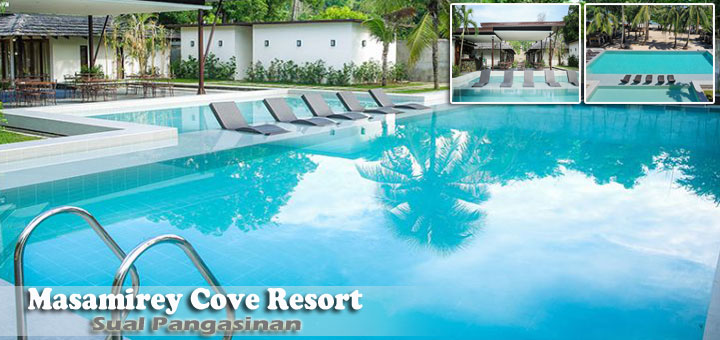 Masamirey Cove Resort
Masamirey Cove Resort's accommodation and facilities are custom designed and well crafted to allow the guests' utmost relaxation and unforgettable experience.
Location: Masamirey White Sand Beach, Baybay Norte, Sual, Pangasinan
Mobile No.: 0917.136.5931 / 0945.712.3994
How To Get To Masamery Beach From Manila
VIA BUS (Manila to Sual)
From Cubao or Pasay bus station, ride a bus going to Alaminos Pangasinan. Travel time is roughly 5 to 6 hours.
Get off at Brgy. Caoayan, Sual Pangasinan. Tell the conductor to drop you off at the crossing going to Sual Power Plant.
From here, you can ride a tricycle going to Masamerey Beach (35-45 minutes).
VIA BUS (Manila to Alaminos Bus Station)
From Cubao or Pasay bus station, ride a bus going to Alaminos Pangasinan.
Get off at Alaminos bus terminal. From the bus terminal, ride a tricycle going to Masamerey Beach (20-30 minutes).
For tickets inquiry and travel time information you can contact the following bus company
Victory Liner
Address: 683 EDSA, Cubao, Quezon City915054
Phone Number: (02) 727-4688 / (02) 410-8986 / (02) 727-4534
FIVE STAR BUS (Pasay)
Address: 2240 Aurora Blvd, Malibay, Pasay, Metro Manila, Philippines
Contact Numbers:853-4772 / 851-6614 / 851-6659
FIVE STAR BUS (Cubao)
Address: Epifanio de los Santos Ave, Cubao, Quezon City, Metro Manila
Contact Numbers: 911-7359 / 421-4716 / 421-4717 / 0927.712.4349 / 0943.706.5083
Going to Bolinao by your own car
Get on NLEx/E1/R-8 in Balintawak, Quezon City from Epifanio de los Santos Ave/C-4 and Pan-Philippine Hwy/AH26
51 min (22.6 km).
Follow NLEx/E1/R-8 and N Luzon W Expy to Paniqui – Ramos Rd in Tarlac. Take the exit toward Ramos/Paniqui from N Luzon W Expy/R-8
1 h 39 min (136 km).
Take Paniqui – Camiling Rd, Romulo Hwy/Tarlac – Pangasinan Rd and Olongapo – Bugallon Rd to Baybay Norte Barangay Rd in Sual.
Masamerey White Sand Beach Photo