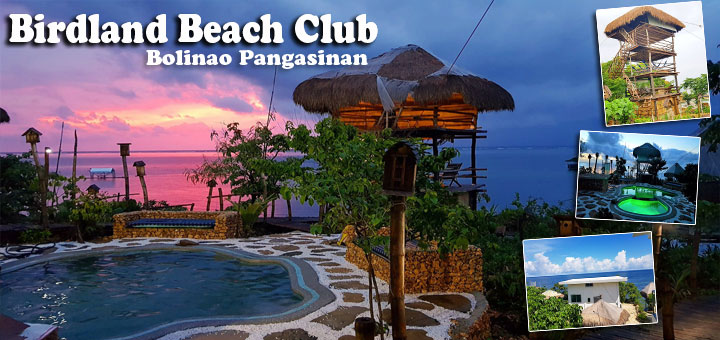 Birdland is the first boutique eco resort in Bolinao. It is officially opened in April 2016 and one of the best Bolinao resorts.
swim in underwater caves, snorkel in front of the resort to view and be amazed by 7 of the 8 giant clam species in the world (the size of car tires). Ride the only bamboo solar tricycle in the Philippines to tour Bolinao's famous sites like Patar White Beach, Enchanted Cave, and the Bolinao waterfalls.
Cruise during sunset with donut boat(Birdlland's version of the banana boat). Go island-hopping including Birdland's private island, Bird Fantasy Island and watch the sunset like stranded castaways. Surf the third-longest surf break in the world in Salaki Island. Jump off Bolinao Falls 1, 2, and 3, minutes from our resort. Float with Birdland's floating houses. Also one of the best spots for sunset view in Bolinao.
Birdland Beach Club has been featured four times on ABS CBN in 2016 for original inventions and innovations: dehydrated organic fruits, vegetables, meats, and seafood; bamboo solar tricycle; donut boat, and hundreds of handmade birdhouses. In 2017, Birdland Beach Club also featured on GMA's show "I Juander" as the best honeymoon spot in Bolinao and Pangasinan and ABS CBN again for the three-story kubos, The Residences at Bolifugao, another Birdland original. Birdland Beach Club has been voted the best eco-resort in Pangasinan in 2017. BBC is a resort-like no other you have ever seen.
Contact Details
Location:Long Beach Street, Bolinao, Philippines
Phone: 0977.830.9810 / 0917.791.9643
Mobile No.: 0906.893.4443
Call or text to Book: 0917.791.9643
E-mail: paparayno@gmail.com
Facebook: Birdland Beach Club.
[adsense_leaderboard_content]

Location Map
Birdland Beach Club Rates
No Day Tours, Birdland Beach Club is exclusively for registered guests only.
Room Rates
Birdland Beach Club Resort in Bolinao range from modern air conditioned cabanas, 3, 4, and 5 story Ifugao inspired wooden homes(Bolifugao Residences), cogon grass outdoor kubo huts that sit in the water on the ocean floor during high tide, to basic budget huts with electric fans.
All cabanas have 2-3 horsepower inverter split air conditioners, 50 inch flat screen TV's, full size refrigerator, and water heater showers. All kubos have mattresses, beddings, towels, basic toiletries, electric fans and outlets, and drop down heavy drapes for privacy.
To see Birdland Beach Club latest room rates and reservation click here.
Activities Rates:
Use of floating bamboo house (swimming and chilling in the middle of the ocean) – Free w/ ID
Use of small grey balsa (fun and challenging than paddle-boarding) – Free w/ ID
Use of life fackets – Free w/ ID
Use of swimming / diving goggles – Free w/ ID
Use of black inner tubes (float in the middle of the sea) – Free w/ID
Snorkel (gear, goggles, fins) – Php 300/3 hours
Super big white balsa (the original Filipino paddleboard) – Php 250/2 hours
Bike rental – Php 300/day
Moped vespa motorbike rental – Php 1000/day
Giant clam dive (snorkeling, P250/person-up to 5 persons, plus Php 200 DNR fee) – Price: Php 250
Sea urchin harvesting and eating with bangka or balsa (good for 2 person) – Price: Php 500 extra person: Php 250
Golf driving range into the ocean (one bucket of balls) – Price: Php 600
Fishing with motorized Bangka – Price: Php 750
Tour Rates
Bamboo Tricycle Tour
Tour Patar Beach, Underwater caves, lighthouse, rock formations (Good for two persons)
Price: Php 800
Extra person: Php 250
Bamboo Tricycle Tour
Tour to Bolinao Falls using Bamboo Tricycle (Good for two persons)
Price: Php 900 / half day
Extra person: Php 250
Manual Balsa Guided Tour
Float slowly and tour the coastline using manual Balsa (Good for 2 persons)
Price: Php 500 / 1 hour
Motorized Balsa Tour
One hour tour the coastline using motorized Balsa (Good for 2 persons)
Price: Php 500 / 1 hour
Donut Boat Tour
Donut boat tour pulled by Bangka (Good for 7 persons, Php 250 / person)
Price: Php 500
Bolinao City Tour
Tour with Bamboo Tricycle (old church, people's market, St. Claire Monastery, UP Marine Institute(giant clams)
Price: Php 900
Guided Tour to Hundred Islands:
Enjoy Alaminos destination, (borrow a Kuya for the day).
Price: Php 1000
Island Tour:
Boat tour to Salaki Island (3-4 hours), explore 3rd longest surf break in the world.
Price: Php 1,500
Other Services:
90 Minute Massage/Hilot
Price: Php 600
Car Wash:
Exterior / Interior /Wax
Price: Php 150 – Php 500
Birdland Beach Club Photos
Photo Courtesy: Birdland Beach Club Official FB Page.
*Rates and rental fees written above are subject to change without prior notice.