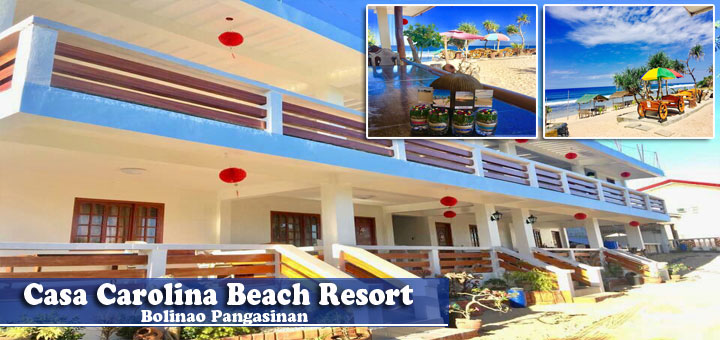 Casa Carolina Beach Resort is a private getaway located in Bolinao, a small, quiet town located at the western tip of Pangasinan. This is the right place to witness the beautiful sunrise and see the majestic beauty of Patar.
Casa Carolina offers white sand beaches, affordable cottages, air-conditioned rooms with beach view balcony, beach volleyball, and a playground. The beach in front of the resort is also ideal for swimming, diving, and snorkeling.
The resort is perfect for travelers who wish to travel comfortably on a budget. Casa Carolina provides decent facilities as well as great services. Highly recommended for backpackers who want to get an affordable yet comfortable place to stay. A good place for family bonding. And the best place for corporate team building at its lowest price.
Casa Carolina is very easy to find since it is located along Patar Road going to the famous Cape Bolinao Light House and Patar White Beach. And it is strategically positioned close to Bolinao's tourist spots like Patar rock formations, Enchanted Cave, Cindy's Cave, and Wonderful Cave. Staying at Casa Carolina will surely satisfy you with its great hospitality and affordable price.
For those who want total peace, quiet, and beauty of nature, Casa Carolina Beach Resort is the place to be…
Contact Details
Location: Patar, Bolinao Pangasinan
Phone: 0917.401.9959 / 0956.864.5779
Facebook: www.facebook.com/CasaCarolinabeach/

Map Location
Rates
Entrance Fee – Free
Cottages – Required for day tour – Php 500/day
Tent Space / Pitching Fee: Php 300/night
Tent for rent (for 4 person): Php 500/night
Room Rates
Check-In Time: 2PM
Check-Out Time: 12NN
Standard Room (2 pax) – Php 2,800/night
Standard Room (3 pax) – Php 3,000/night
Standard Room (4 pax) – Php 3,600/night
Standard Room (5 pax) – Php 3,750/night
Standard Room (6 pax) – Php 3,900/night
Family Room (7 pax) – Php 6,000/night
Family Room (8 pax) – Php 6,200/night
Family Room (9 pax) – Php 7,350/night
Family Room (10 pax) – Php 7,500/night
Family Room (11 pax) – Php 7,700/night
Family Room (12 pax) – Php 7,800/night
Executive Room (13 pax) – Php 8,950/night
Executive Room (14 pax) – Php 9,100/night
Executive Room (14 pax) – Php 9,250/night
* Additional Php 200.00 for extra mattress
* Month of May onwards – Less Php 1,000/Room Rate.
Inclusions:
Airconditioned Room
Breakfast Meal
Entrance Fee
Wide spacious parking lot
Beach Volleyball
Free cottages/sheds
Free used of gas stove
Free used of grill station
Free used of refrigerator
Free used of kitchen and utensils
Free used of beach volleyball court
24hr receptionist
Strong Globe and Smart signal
Rules and Regulation
Accepting reservations and walk-ins.
Remaining balance must be paid upon arrival and must have a POR(Proof of Reservation).
No down-payment, no reservation policy.
Non refundable, non appearance on schedule will be forfeited.
Cooking is allowed.
Allowed to bring-in foods /deliver food & drinks inside the unit, no corkage fee.
Photos
*Rates and rental fees written above are subject to change without prior notice.