The ancestral home of former President Fidel Ramos has become one of the tourist attractions in his home province of Pangasinan. 
The current structure is the replica of the original ancestral house of the Ramos family. Their first home was destroyed during World War II. The one that stands today was established in 1995 by the Ramos Foundation. And it is believed that it is the exact spot of the family house of Narciso Ramos, his wife Angela Valdez, and their children Fidel, Leticia, and Gloria.
Upon entering the gate, their is a historical marker which provides a quick insight of the Ramos family and the house.
For many years, the site was widely known as the exact location of the family house of lawyer, journalist, statesman and diplomat Narciso Ramos, his wife Angela Valdez, a former English supervisor at the Pangasinan Vocational High School and their children Fidel, Leticia and Gloria.
It was here where the former President was born and where he spent his childhood.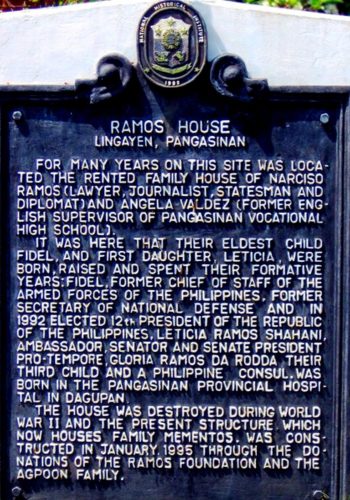 The house is made mostly of hardwood – the ceiling, walls, and windows; even the chairs, tables, and beds are made out of wood. Even though the original residence was destroyed, some of the family's memorabilia have been saved and are now on display in the restored home.
The walls of the house are adorned with framed pictures of President Fidel V. Ramos' family and his achievements in life, as well as other family memorabilia. Aside from the pictures of the siblings, there are also those of the couple, Narciso and Angela, meetings with global leaders such as the Clintons and Queen Elizabeth of London.
Tours of the Ramos ancestral house can be arranged through the Tourism Office of Pangasinan.
Where to Stay in Lingayen Pangasinan
Pangasinan Guide for TOURIST
Requirements for Fully Vaccinated Tourists
Source: Province of Pangasinan FB Page Executive No 015-2022
Other Places To Visit in Pangasinan
How to Get to Pangasinan (Entry Points) and Travel Time
Travelling Times:
From Manila: 4 ~ 5 hours
From Clark, Pampanga: 3 hours
From Baguio City: 1 1/2 ~ 2 1/2 hours
From Subic , Olongapo: 3 1/2 ~ 4 hours
From Laoag City: 5 ~ 6 hours
Entry Points:
From Manila: via North Luzon Expressway (NLEX), exiting thru Luisita and entering thru Bayambang or Mangatarem towns; via Tarlac -Pangasinan-La Union Expressway (TPLEX), exiting/ entering thru Rosales town or thru Urdaneta City.
From Zambales: via Infanta town.
From Baguio: via Sison or San Fabian town.
From Nueva Ecija: via Umingan or Rosales town.
National Transport Carriers:
Victory Liner, Five Star, Solid North ply major routes to most Pangasinan town thru Pasay, Cubao Caloocan Stations. Dagupan City is usually the central hub for transport to both Eastern and Western parts pf Pangasinan. Buses, jeeps and tricycles are very common. Tour Guides and Provincial Buses are available to make your visit memorable.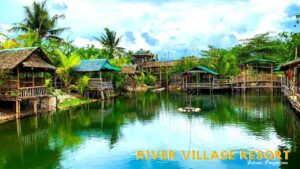 River Village Resort is a new campsite and recreation spot in Bolinao, Pangasinan. Located at Ilog Malino, Bolinao, Pangasinan. The resort has full access to
Read More »