Urduja House, previously known as Urduja Palace, is the official residence of the governor of Pangasinan. Built across the Pangasinan Provincial Capitol in 1953, it has been home to subsequent governors since as their residence while in the capital.
Urduja House is named after the legendary warrior Princess Urduja, a legendary 14th-century warrior princess of the dynastic Kingdom of Tawalisi in Pangasinan. 
Princess Urduja is often described as tall and beautiful with golden bronze skin and dark hair, clad in gold, and was famous for leading an army of strong women warriors adept in sword fighting and horseback riding called Kinalakihan or Amazons.
At present the Urduja House currently serves as the governor's official residence and guest house.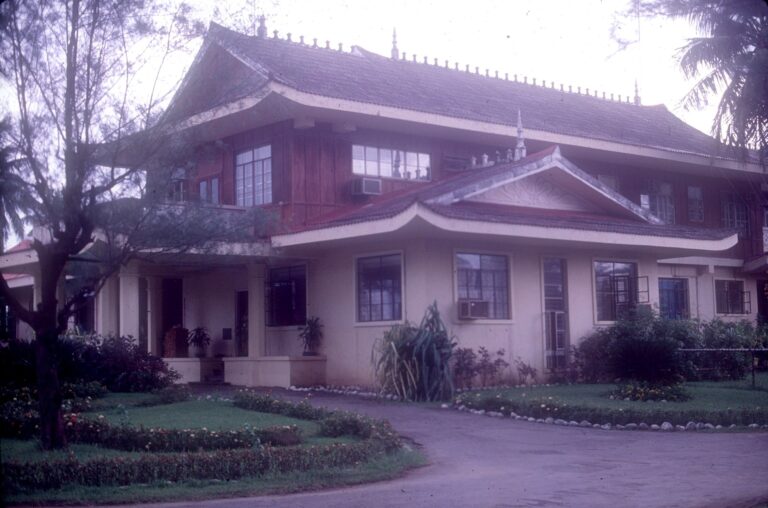 Governor Juan Rodriguez conceived the idea of an official residence under his administration, especially since Governors before him came from different parts of the province. In order to ease travel, he commissioned a governor's mansion across the Pangasinan Provincial Capitol he promptly named "Urduja Palace," named after the legendary Urduja, a princess of Tawilisi, said to be located in the present-day Pangasinan. It was officially named "Urduja House" as a simplication since it was too small to be a palace.
Urduja House - Usage and facilities
Until the term of Governor Amado Espino, Jr., the Urduja House also hosts the Governor's Office. But in a press statement on July 17, 2007, he initiated a reorganization program, which revamped the offices of the provincial government. Now the Governor also holds office in the Capitol, along with the Vice Governor and the Sangguniang Panlalawigan officials. The residence only serves as the living quarters of the governor, a ceremonial reception hall and a guesthouse for dignitaries staying overnight.
Inside the residence is a prized 40 by 30 portrait of Princess Urduja, made by Antonio Gonzalez Dumlao in 1954, acquired by the provincial government on June 11, 2011. The painting is currently located fronting the entryway of the residence. It sits alongside a Fernando Amorsolo painting, also of the princess, commissioned by Governor Conrado Estrella, the first governor to actually hold residence in Urduja House.
Urduja House is part of the Pangasinan Provincial Capitol Complex that also includes the historic Sison Auditorium, the Finance Building, Capitol Resort Hotel and the Veterans Memorial Park, just a few meters away from the actual landing site. Nearby is the Lingayen Airport, currently only serving general aviation, and the Narciso Ramos Sports Complex and Civic Center.
Source: https://en.wikipedia.org/wiki/Urduja_House
Tourist Spots in Lingayen Pangasinan
Resorts and Hotel in Lingayen Pangasinan
Top Tourist Attractions in Pangasinan
How to Get to Pangasinan (Entry Points) and Travel Time
Travelling Times:
From Manila: 4 ~ 5 hours
From Clark, Pampanga: 3 hours
From Baguio City: 1 1/2 ~ 2 1/2 hours
From Subic , Olongapo: 3 1/2 ~ 4 hours
From Laoag City: 5 ~ 6 hours
Entry Points:
From Manila: via North Luzon Expressway (NLEX), exiting thru Luisita and entering thru Bayambang or Mangatarem towns; via Tarlac -Pangasinan-La Union Expressway (TPLEX), exiting/ entering thru Rosales town or thru Urdaneta City.
From Zambales: via Infanta town.
From Baguio: via Sison or San Fabian town.
From Nueva Ecija: via Umingan or Rosales town.
National Transport Carriers:
Victory Liner, Five Star, Solid North ply major routes to most Pangasinan town thru Pasay, Cubao Caloocan Stations. Dagupan City is usually the central hub for transport to both Eastern and Western parts pf Pangasinan. Buses, jeeps and tricycles are very common. Tour Guides and Provincial Buses are available to make your visit memorable.